About the Baghdad and Babylon Hashes.
Baghdad HHH (BH3) - the Saturday Run
The first Baghdad HHH run occurred on July 25th 1981 at the 345 Club.
The link below will take you to a document titled "the Official History of the BH3", penned by John Haiste, the initial Hash Master :-
Further detail from John Haiste for the 50th and 100th Hash Trash's :-
50th Run Trash preface by John Haiste and 100th Run Trash preface by John Haiste
The extract below is from a newspaper article based upon some info supplied by Alan Kennedy to a journalist visiting Baghdad:-
Billed as `the Most Dangerous Hash House in the World', the Baghdad Hashers have been on the go since 1981. `Back then, it was bloody huge,' says Alan Kennedy, one of the earlier members. `And very international – we had people from all over... and 60 Irish nurses!'
Even then, Iraq was not very safe. During the Iran-Iraq War, Kennedy recalls: `Before one particularly hairy run, the Iraqi army decided to illuminate our camp. site with frequent bursts of shell fire.' On another occasion, drinking antics did not go down well with the local police force; one unfortunate expat was arrested and beaten for smelling of beer.
In 1989, the club had further problems. The first Gulf War saw many of the Hash retained in Baghdad as `guests' of Saddam Hussein – but it still kept running. The Iraq group eventually faded but restarted in 2004. A mix of reconstruction contractors, the odd private security guard, a nurse or two and a handful of military personnel, they have to face very similar dangers to the group's founders.
The full article is here:- Metro article - Running in a War Zone (opens in a new window)
Baghdad Babylon HHH (B2H3) - the Monday Run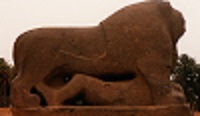 The first Baghdad HHH run occured on June 8th 1985 at Mike and Sue Jone's.

Click on this link Babylon HHH run 1 Hares set off.pdf to see a photo of the first Hares, Steve Turner and Mike Jones seeting off for the first live run.

Chairman Wofflers thoughts on the B2H3 ( the sanitised version) :-

The Baghdad Hash became so big with a pack of 130, I recall on one occasion that by its very nature of holding at the checks it became a stroll around the suburbs of Baghdad.

The keen runners complained and bitched but the Hash mismanagement could/would do nothing to stop this happening and so out of frustration the Babylon Hash was born. The instigators of this birth was Messer's Mike Jones, Brian Clancy and Dave Bland and the first run was from Mike Jones villa on the 8th June 1985. The first actual run around the ruins of Babylon itself was on the 8th Dec 1989 the Hares being Gobsmacked and Scoopface.

As you will understand there was a lot of skulduggery and debauchery going on amongst the Baghdad Hash (not the Babylon) and John Haiste had a field day with the down downs, it was hilarious as to what some of them got up to and the lies being told. No wonder John was threatened to be sued when he got back to the UK for deformation of character.

Click on the links below to see some more history :-

1st Run history from Gobsmacked as preface to Babylon 300th Run magazine

Chairman wofflers memories of Babylon HHH part1

Chairman wofflers memories of the Babylon HHH part2

Photo of the 1st run Rampant Lion

Photo of Babylon 1st RUN T-Shirt Front

Photo of Babylon 1st RUN T-Shirt Back